This open house was active from July 9-25, 2021. Information on this website may no longer be current. Email us for more information.
We're sorry we can't bring you cookies in person, but here is a recipe you can make at home.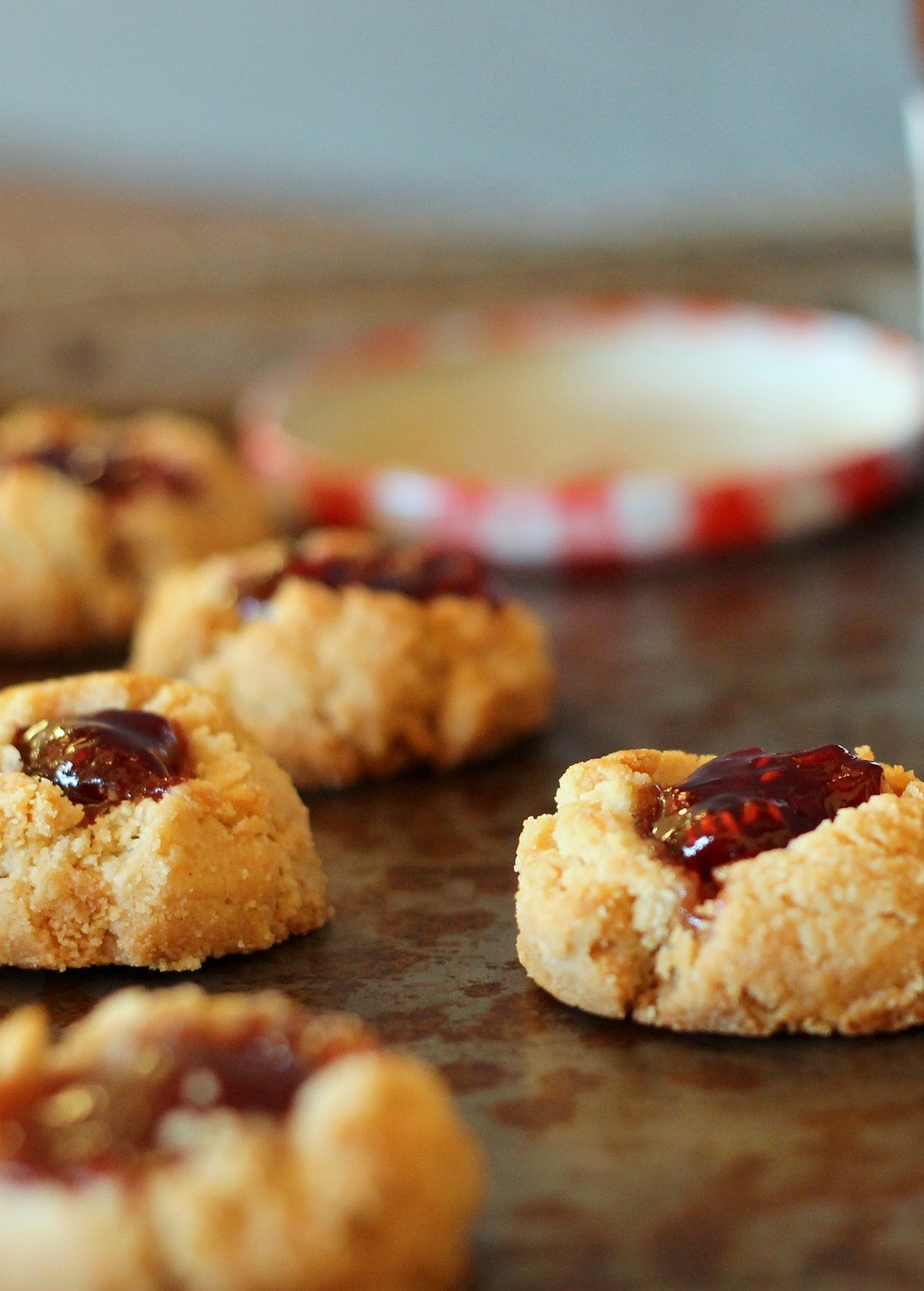 Almond Flour Thumbprint Cookies
A soft, chewy vegan gluten-free thumbprint cookie recipe made with almond flour and no refined sugar.
Prep time: 15 minutes
Cook time: 12 minutes
Total time: 27 minutes
Ingredients
2 cups Blanched almond flour
¼ cup Melted coconut oil
¼ cup Maple syrup
¼ teaspoon Salt
¼ teaspoon Baking powder
1 teaspoon Vanilla extract
1 teaspoon Almond extract
1 teaspoon apple cider vinegar - or lemon juice
¼-⅓ cup raspberry jam (to fill the cookies)
Instructions
Preheat oven to 180°C (350°F). Line a cookie sheet with parchment paper. Set aside.
In a large mixing bowl, add all the ingredients: almond flour, melted coconut oil, maple syrup, baking powder, salt, apple cider vinegar, vanilla extract, and almond extract.
Stir with a spoon to form the cookie dough batter. It should be sticky but easy to roll into a cookie ball, not wet or runny - see picture above in my post. If it is too wet, add more almond flour 1 tablespoon at a time.
To make 32 small thumbprint cookies, scoop 1/2 tablespoon of cookie dough per cookie otherwise, to make 16 large cookies, scoop 1 tablespoon of dough per cookie.
Roll the cookie dough in your hand to form a small cookie dough ball and place the ball on the prepared cookie sheet. Repeat to form 32 cookie balls, leaving a 1-inch (2cm) space between each cookie ball.
For small cookies, place the back of a 1/2 teaspoon measuring spoon in the center of the cookie dough ball. Press gently to form a hole in the center of the cookie, the sides of the cookie may crack slightly, and that's ok. If you made larger cookies, use your thumb to press down each cookie dough ball.
Fill each thumbprint cookie up to the 3/4 of the hole - not up to the top, or it may overflow in the oven.
Bake for 12-14 minutes or until the sides of the cookies are slightly golden brown. They will be soft when you take them out of the oven, and that's fine.
Cool 5 minutes on the cookie sheet, then slide a spatula under each cookie to transfer onto a cooling rack.
If some jam evaporates or fades in color during the baking process, you can add a little more after they completely cool down.
Store in a dry place, sealed cookie jar at room temperature are the best, for up to one week. They can get sticky if stored in a humid place or in the fridge.
Recipe courtesy of Patrick Oakes, Senior Project Manager